Early lung cancer detection with artificial intelligence:
A guide for patients
The earlier the better
The earlier doctors can diagnose lung cancer, the easier they can treat it.
Unfortunately, lung cancer is difficult to catch on time. Symptoms such as persistent cough or shortness of breath develop late, when the disease has already advanced.
Medical imaging plays a central role in early lung cancer detection. Chest CT scans – which are detailed chest images using a very low dose of radiation – may show lung nodules. These are tiny lesions in the lung and may be signs of early disease. But to interpret these findings, we need radiologists.
Why do we need AI in radiology?
For starters, we don't have enough radiologists.
Only two thirds of the radiology roles are currently filled in the UK; the US are not doing much better. And, as the world's population is growing and ageing, there are more and more medical images to read. Thus, radiologists are under pressure.
To detect lung cancer early, they must find very tiny lung nodules in the 200-300 images that constitute a CT scan. They then need to measure these nodules and monitor their growth over time, which are manual, cumbersome tasks. Due to the nature of this work and the high volume of scans, radiologists may feel tired, stressed, or bored – they are human, after all.
Artificial intelligence (AI) is the perfect radiology assistant. It can automatically find, measure, and track the growth of lung nodules, with excellent precision, and without ever getting weary.
Getting the terms right
Artificial Intelligence (AI) is sophisticated software created by computer experts and data scientists.
You may have heard of AI, but also about 'machine learning' and 'deep learning'. These words are often used as synonyms, yet they refer to different things.
Imagine a Russian doll. The outer doll is AI, the overarching concept. Machine learning is a subset of AI, a technique to train computer systems to perform specific tasks. Deep learning is a class of machine learning algorithms. It focuses on processing big data to learn how to identify patterns automatically.
No AI without data
AI systems need a lot of data to do pretty simple things. We are much better learners ourselves.
Once we see one chair, we will easily identify the next one because we use our experiences to understand what the object is and how it is used.
On the other hand, an AI system might need to see 10,000 images of chairs, each with a label that says 'chair', before it can recognise one on its own. But once it has 'learned' what a chair is, it will spot the next one in under a second, in a stack of furniture, even after seeing hundreds of stacks for days in a row.
So, with lots of data, AI can help us or even do specific things better than us. Imagine if we used this power to find early signs of cancer!
AI in the
patient journey
AI in medical imaging is the radiologists' extra pair of eyes. It helps them manage their workload and make sure they don't miss anything. The doctor always has the final say in your diagnosis, treatment, and next steps. This will not change anytime soon - AI is very, very far from replacing physicians.
Your journey as a patient stays the same. You will still see a radiographer when you come for a scan and your doctor to discuss the results once a radiologist has reported your scan. A radiologist using AI might have more time to focus on your case or explain the results than one who is not.
To get a better idea of how AI is helping radiologists, let's have a look at what we do. Here is an example of how our AI-based solution, Veye Lung Nodules, is used to detect and manage possibly threatening pulmonary nodules:
Answers to your
questions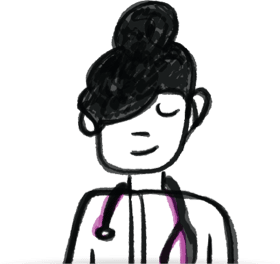 We're open to talk
Our purpose is to build intelligent software that ultimately gives lung cancer patients a fighting chance. We believe our technology should be accessible to all and that you, the patient, should have the opportunity to become involved in the development of our tools.
Do you have a question we have not answered on this page?
Would you like to share your views or experience as a lung cancer patient?
Please send us a message.
Contact us