The PINPOINT project
A partnership between Aidence and AstraZeneca, supported by members of the Lung Ambition Alliance
Project overview
PINPOINT* is a one-of-a-kind programme implementing AI in clinical practice at scale.
It aims to develop insights about incidental pulmonary nodules (IPNs) detection and management in participating hospitals.
The project will also identify best practices for IPN management and early lung cancer diagnosis.
*Pulmonary Incidental Nodules: Improve Detection and Follow-up by integrating Artificial Intelligence
Incidental pulmonary nodules
Incidental pulmonary nodules are abnormal growths in the lungs. They are found on imaging scans taken in routine clinical practice, while investigating or diagnosing another health condition. Most IPNs are benign, but some are cancerous.
The solutions
AI solution Veye Lung Nodules has been handpicked for this project due to its proven clinical performance and track record of successful implementations.
Veye Lung Nodules automatically detects, measures, classifies and tracks the growth of pulmonary nodules. With PINPOINT, Veye will be implemented in hospitals for better assessment of IPNs.
The monitoring and follow-up of patients with pulmonary nodules will be supported by Veye Clinic, our new intelligent software solution for the lung cancer pathway. Recommendations will follow the British Thoracic Society (BTS) guidelines.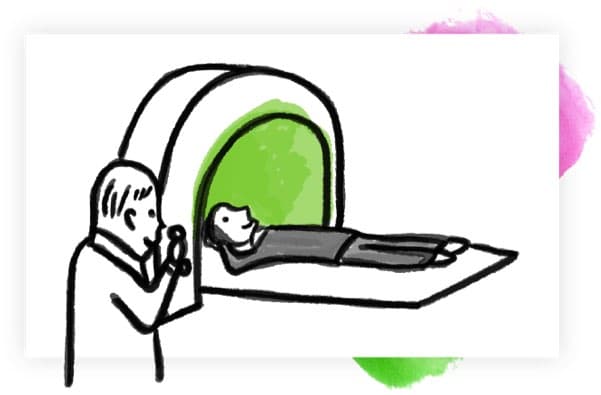 Nodule clinics
In nodule clinics, a multidisciplinary team evaluates the pulmonary nodules detected in routine practice.
They are a practical approach to organising a streamlined follow-up for patients, so no early-stage lung cancer is missed.
PINPOINT aims to implement nodule clinics in participating hospitals and establish them as the standard of care.
The impact
PINPOINT aims to analyse 300.000 to 600.000 scans for early detection within two years.
After a pilot stage, the programme will expand to a planned 20 European hospitals across up to ten countries.
The project is expected to develop new best practices and change the standard of care for IPN detecting and follow-up.
The steering
committee
PINPOINT is overseen by an academic committee of leading lung cancer and medical imaging specialists.
Joachim Aerts
Pulmonologist at Erasmus MC Rotterdam, the Netherlands
Edwin Van Beek
Radiologist at the University of Edinburgh, the UK
Luis Gorospe
Radiologist at the Ramón y Cajal Hospital, Spain
Giorgio Vittorio Scagliotti
Professor of Oncology, University of Turin, Italy
Jacob J. Visser
Radiologist at Erasmus MC, the Netherlands
The potential of AI to detect nodules and support clinical teams in determining the probability of cancer could help to save lives and to work more effectively.
Alongside funding the implementation of this technology, a dedicated Steering Committee will develop a protocol to change behaviour and optimise the lung cancer care pathway, working closely with the radiology community.
Joachim Aerts, pulmonologist at Erasmus MC Rotterdam, Board Member at The International Association for the Study of Lung Cancer (IASLC), and chair of the Steering Committee
If the time for lung cancer screening is now, we must drive earlier detection and reduce mortality using tailored criteria to reach those at higher risk.
At the same time, we need to develop targeted outreach to address inequalities and barriers to lung cancer screening participation,
We, thus, need to integrate complementary and broader initiatives such as the assessment of indeterminate pulmonary nodules in the context of a multidisciplinary nodule care.
Giorgio Vittorio Scagliotti, Professor of Oncology, University of Turin, Italy
Get
in touch
If your want to learn more about
the project, contact us.